Student Accomplishments:
Maria Diaz is "celebrity face" of Kroger's "Hope" campaign – Cured of breast cancer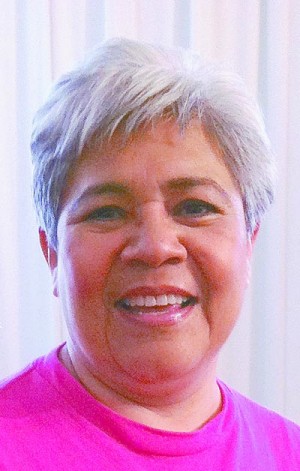 Maria Diaz
RSE student Maria Diaz was diagnosed with breast cancer and subsequently cured the ravages of this horrific disease. Maria says, "My story has taken off to new heights. The links below are to an article which was published in my former hometown paper and a a published story in the Kroger Corp. Newsletter, of my employer.
I want to share that I took my story in a more positive evolution using what I learned and continue to learn from our Great Master!"
Read Maria's story in her own words:
1. "Q-C [Quad Cities of Illinois/Iowa] native part of national 'Hope' campaign"
"A positive, upbeat attitude in challenging breast cancer has landed Quad-City native Maria Diaz a prominent spot on the national 2012 "Giving Hope a Hand" campaign sponsored by the Kroger Co.
Diaz, who moved to Washington state from the Quad-Cities in 2006, was diagnosed with breast cancer in February 2011. After two biopsies, a partial mastectomy, 25 daily radiation sessions and three booster treatments, she got the all-clear sign from her doctor in June 2011.
A clerk at a food store operated by Kroger, Diaz was asked by a company representative to be part of the chain's "Hope" campaign. The effort funds cancer research, mammograms and educational outreach in communities where the company has stores.
In June, Diaz and 10 other women from across the country were flown to New York City, where their stories were videotaped and they were photographed with New York Jets pro football quarterback Mark Sanchez, the celebrity face of the campaign.
The women's stories will be posted online in October and their photos will be featured on various Kroger's products.
Diaz, 66, of Olympia, not only beat cancer, but she simultaneously earned an online degree in nutrition from Kaplan University, which is based in Davenport," quoting the Quad City Times.
Read more
2. "Sharing Stories of Hope and Courage"
"Meet Maria Diaz, courtesy clerk at QFC store #126 in Lacey, Wash. She was diagnosed with breast cancer in February 2011."
"QFC Courtesy Clerk Maria Diaz recently attended a photo shoot in New York City with 10 other associates as part of our company's 2012 "Giving Hope a Hand" campaign.
Read more from the Kroger Company employee newsletter.
3. Giving Hope a Hand has added some videos of the women who participated in the photo-shoot in New York with Mark Sanchez. RSE student Maria Diaz is featured.
Read more and see Maria's video.