"Floating 'Interdimensional City'
Witnessed by Hundreds of Villagers in Africa"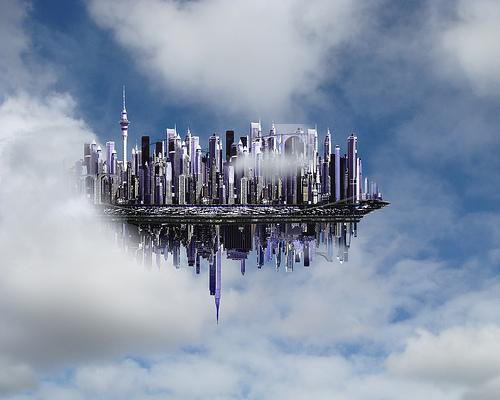 "A bustling city in sky seen by many!?"
Credit: UFO International Project
From JZ Knight:
"Good Lovely Day to all you wonderful Angels. I hope you watch this video after you Create Your Day®. The future for you is created by you and becomes destiny by design. I urge you to be the future today and not your past. When you accomplish this, you belong to it. Know that you are loved and you possess yet untapped capabilities of the mind and loving yourself means you will open your mind, love your days of new future and eventually you will belong to marvelous societies, as you will see in the sky❤️."
– "Floating 'Interdimensional City' Witnessed by Hundreds of Villagers in Africa" on Disclose.tv
"Disclose.tv is a fast growing multimedia and news hub dedicated to unusual and unexplained phenomena as well as alternative topics that may be ignored, denied or inandequatly (sic) covered within the mainstream media – the first and already largest of its kind," quoting Disclose.tv, posted April 24, 2015.
Click here for the video report.
– "Floating 'Interdimensional City' Witnessed by Hundreds of Villagers in Africa" by the UFO International Project
"Over the years gone by, there have been so many fascinating stories of some extremely strange beings/objects suddenly appearing from the constellations around us to planet earth, with some completely unexplainable objects faster than any human fighter jets could ever travel.
Not that long ago one of such 'bizarre' images appeared in one of the villages in Bauchi State. The villagers narrated this strange sight to Greg Odogwu and Mukhtar Lawal Suleiman.
The actual place was a local border village called Dulali, in Lanzai South Ward, Darazo Local Government of Bauchi State [Nigeria]. Saidu Meshai Dulali, who was a very popular hot tea brewer in the village, had just finished his morning prayer at the local Mosque and was stoking up the stove for his day's work.
When suddenly, Saidu became aware of a pervading extremely bright light enveloping the atmosphere, followed by a sudden realisation that the heavens were falling on the village. As he looked up at the encroaching sky, he saw the most fascinating view of his forty years existence on planet earth. According to Saidu:
'There appeared a wide, large mass of something that looked like a cloud from nowhere and it was flying slowly over the village just at the height of an average tree.
"The cloud was transparent and I saw beautiful tall buildings inside it, with tarred roads and cars. It was like a flying city. And from it I could hear the sound of machines making noise just as you would hear at Ashaka cement factory,'" quoting UFO International Project
[scroll down to see newspaper report published in April 2012].
Read more