IPCC issues stunning benchmark on climate change –
Ramtha on world's flooding from decades past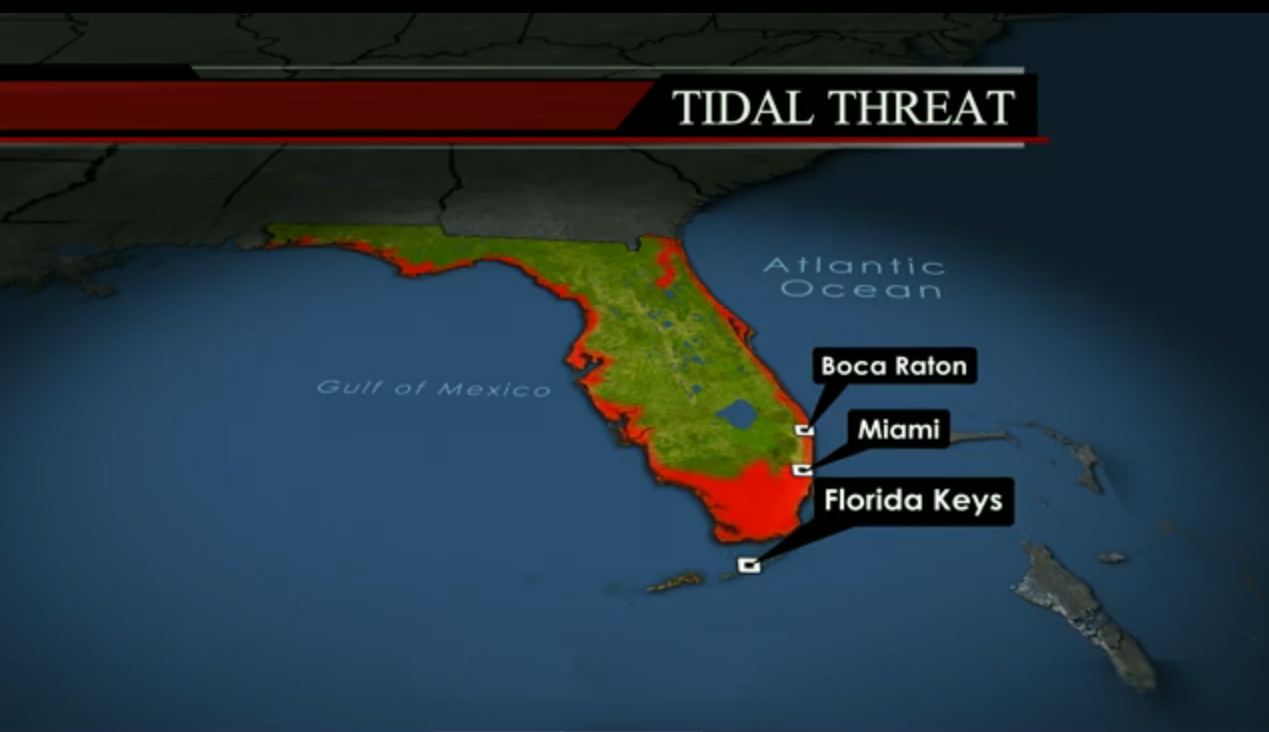 "Scientists warn of rising sea levels in Fla"
Red areas show potential for Florida coastal area to be uninhabitable due to flooding.
– IPCC Report
"The world's getting hotter, the sea's rising and there's increasing evidence neither are naturally occurring phenomena.
So says a report from the U.N. International Panel on Climate Change [IPCC], a document released every six years that is considered the benchmark on the topic. More than 800 authors and 50 editors from dozens of countries took part in its creation.
The summary for policymakers was released early Friday, while the full report, which bills itself as "a comprehensive assessment of the physical science basis of climate change," will be distributed Monday. Other reports, including those dealing with vulnerability and mitigation, will be released next year.
Here are the highlights from Friday's summary:
– Man-made climate change is almost certain
– Climate change is already affecting extreme weather
– The last 30-year period is "very likely" the warmest in the last 800 years
– Sea level rise will increase due to warming oceans and loss of ice
– Even if we end emission tomorrow, climate change could continue for centuries
From CNN's Dave Hennen, Brandon Miller and Eliott C. McLaughlin.
Read more
Click here for The Intergovernmental Panel on Climate Change (IPCC) report.
– "Destabilization of Arctic Sea Ice Would Be Game Over for Climate"
by Subhankar Banerjee, September 27, 2013 in Climate Story Tellers.org.
Read more
– UPDATE: December 13, 2013
"Melting ice a 'sleeping giant' that will push sea levels higher, scientist says"
"Today's pace of sea level rise is about twice as fast compared to historical standards, the team concluded. Going forward, seas will be pushed higher as rising temperatures force the great ice sheets in Greenland and Antarctica to disintegrate, glaciers around the world to retreat toward mountaintops, and warming ocean waters to expand, the study notes.
'We have awoken a sleeping giant,' Eelco Rohling, a climate scientist at the Australian National University in Canberra, told NBC News in an email, quoting John Roach, NBC News.
Read more
– UPDATE: January 31, 2014
"Rising sea levels prompt relocations in Fiji"
By Brianna Piazza, World News Australia Radio
Read more
– UPDATE: February 4, 2014
"Climate change threatens to cause trillions in damage to world's coastal regions if they do not adapt to sea-level rise"
From University of Southampton
Read more
– UPDATE: March 28, 2014
"Borrowed Time on Disappearing Land"
"Facing Rising Seas, Bangladesh Confronts the Consequences of Climate Change"
Read more from Gardiner Harris in The New York Times.
– UPDATE: March 31, 2014
"The Vanishing Arctic Ice Cap"
"Scientific American has said of the IPCC: 'Across two decades and thousands of pages of reports, the world's most authoritative voice on climate science has consistently understated the rate and intensity of climate change and the danger those impacts represent.'
However, the recently released IPCC report is raising eyebrows: Even this conservative body is predicting dire threats for people and other species in the near future, and these risks may very well mean 'abrupt or drastic changes' that could lead to unstoppable and irreversible climate shifts like the melting of both the Arctic ice cap and Greenland's glacial ice.
According to the IPCC report, the polar bear is not alone in being under threat," quoting Dahr Jamail in Truthout.
Read more
"Report: Climate change will impact our food supply"
"A U.N. panel is sounding the alarm today on a report that says global temperatures could rise up to nearly 9 degrees this century, and that the change will have a dramatic impact on our food supply and wildlife," quoting TODAY on NBC News.
Read more
"Panel's Warning on Climate Risk: Worst Is Yet to Come"
By Justin Gillis in The New York Times.
Read more
– UPDATE: April 3, 2014
"UN Climate Panel Issues Dire Warning of Threat to Global Food Supply, Calls for Action and Adaption"
Read more from Amy Goodman and Nermeen Shaikh, Democracy Now!
– UPDATE: April 10, 2014
"Evidence of Acceleration of Anthropogenic Climate Disruption on All Fronts"
By Dahr Jamail, Truthout.
Read more
– UPDATE: May 6, 2014
"American Doomsday: White House Warns of Climate Catastrophe"
"Scorching temperatures, flooded cities, wildfires and changes in the growing season are just some of the hard realities of a changing climate that are beginning to hit Americans directly, says a new White House report.
"Climate change, once considered an issue for a distant future, has moved firmly into the present," the White House report released on Tuesday says.
The third National Climate Assessment, the result of four years of research by hundreds of leading scientists and experts, draws a dire picture of a future in which human activity has contributed directly to massive changes in weather. A 1,300-page draft version of the National Climate Assessment was issued last year, and the final version was approved on Tuesday [May 6, 2014]," quoting Matthew DeLuca on NBC News.
Read more
– UPDATE: May 20, 2014
"Climate change is putting historic and cultural landmarks around the USA at risk, according to a report by the Union of Concerned Scientists, including the Statue of Liberty in New York City," quoting USA Today.
Read more
– UPDATE: May 21, 2014
"How South Florida Is Ignoring The State's Leading Politicians And Taking On Climate Change"
By Katie Valentine, in Think Progress.
Read more
– UPDATE: June 2, 2014
"In Norfolk, evidence of climate change is in the streets at high tide"
"On May 6, the Obama administration released the third National Climate Assessment, and President Obama proclaimed climate change no longer a theory; its effects, he said, are already here. This came as no surprise in Norfolk, where normal tides have risen 11 / 2 feet over the past century and the sea is rising faster than anywhere else on the East Coast."
By Lori Montgomery, Washington Post.
Read more
– UPDATE: June 8, 2014
"Japanese WWII soldier graves washed away by rising sea levels [on a low-lying Pacific archipelago]"
By Alister Doyle, AOL Environment Correspondent
Read more
– UPDATE: June 10, 2014
"Military Bases Brace for Slow-Motion War With Climate Change
By Miguel Llanos, NBC News.
Read more
– UPDATE: June 22, 2014
"Cough, Cough: Climate Change May Worsen Air Pollution"
By John Roach, NBC News.
Click here
– UPDATE: June 25, 2014
"May global temperature reaches record high, driven largely by record warm oceans"
From NASA.
Read more
Click here for the world temperature chart.
– UPDATE: July 10, 2014
"Coastal Flooding Has Surged Along Eastern Seaboard, Investigation Finds"
"Coastal flooding along the densely populated Eastern Seaboard of the United States has surged in recent years, a Reuters analysis has found.
During the past four decades, the number of days a year that tidal waters reached or exceeded National Oceanic and Atmospheric Administration flood thresholds more than tripled in many places, the analysis found. At flood threshold, water can begin to pool on streets. As it rises farther, it can close roads, damage property and overwhelm drainage systems, quoting Ryan McNeill and Deborah J. Nelson, Reuters.
Read more
– UPDATE: July 17, 2014
"Climate Scientists See 'Very Rapid Declines' in Annual NOAA Report"
"Leading climate scientists on Thursday issued their annual physical of Earth, comparing the planet in 2013 to a patient that's only getting worse and highlighting problems with key vital signs: from record warmth in Australia and China to sea levels that continue to rise and Arctic sea ice in continued decline.
The vital signs reflect "the largest changes that we've been able to witness in the historical record," said Tom Karl, director of the National Climatic Data Center, part of the National Oceanic and Atmospheric Administration," quoting By Miguel Llanos, NBC News.
Read more
– UPDATE: July 29, 2014
"More than 2.5m Sea Level Rise by 2040?"
From Arctic News.
Read more
– UPDATE: July 30, 2014
"Does NASA's Data Show Doomsday for New York City?"
By The Daily Take Team, The Thom Hartmann Program.
Read more
– UPDATE: August 5, 2014
"Scientists may have cracked the giant Siberian crater mystery — and the news isn't good"
By Terrence McCoy, The Washington Post.
Read more
– UPDATE: August 15, 2014
"10 Places Where Climate Change Is Being Felt the Fastest"
By Terrell Johnson, The Weather Channel.
Read more
– UPDATE: August 24, 2014
"Wild Weather: U.S. Hit by 'Most Unusual Year' for Temperatures"
By Miguel Llanos, NBC News.
Read more
– UPDATE: August 28, 2014
"Stark Images of Maryland Towns Sinking as Sea Levels Rise"
By Michele Berge, The Weather Channel.
Read more
"Louisiana's Disappearing Coastline Threatens Entire U.S. Economy"
"A dramatic visualization of the forces bringing the Gulf of Mexico up to New Orleans' back door
By Emily Gert, Popular Science.
Read more
– UPDATE: September 4, 2014
"The Crisis of Rising Sea Levels – A Reuter's Investigation"
"As the seas rise, a slow-motion disaster gnaws at America's shores"
"Part 1: A Reuters analysis finds that flooding is increasing along much of the nation's coastline, forcing many communities into costly, controversial struggles with a relentless foe," by Ryan McNeill, Deborah J. Nelson and Duff Wilson, Reuters.
Read more
– UPDATE: September 16, 2014
"Flooding from storm surge would threaten D.C. infrastructure, report says"
By Lori Montgomery, Washington Post.
Read more
– UPDATE: October 15, 2014
"Is Miami Beach drowning?"
From the Union of Concerned Scientists.
Click here for the video.
– UPDATE: October 22, 2014
"South Miami commissioners propose seceding from Florida"
"Though the proposal sounds farcical, it highlights the serious issue of rising sea levels, which threaten the southern half of the state.
According to the resolution, which passed by a 3-2 vote, North Florida sits 120 feet above sea level, while parts of South Florida are 5 feet or less above sea level," quoting Javier de Diego, CNN.
Read more
– UPDATE: November 2, 2014
"Climate Change Dangers Are 'Higher Than Ever': U.N. Report"
By NBC News.
Read more
– UPDATE: November 20, 2014
"2014 Boils Toward Warmest Year Ever with Three More Records Broken"
By Miguel Llanos, NBC News.
Read more
UPDATE: November 22, 2014
"A Reuter's Series: Water's Edge – The Crisis of Rising Sea Levels"
"In metro Houston, an uphill fight to build a Texas-size defense against the next big storm"
By Duff Wilson, Ryan McNeill and Deborah J. Nelson, Reuters.
Read more
– UPDATE: December 1, 2014
"Are Humans Going Extinct?"
"So it's difficult for me [Paul Beckwith, climate scientist at University of Ottawa] to imagine a scenario where we'll survive even a 4-degree Celsius [above pre-industrial baseline] temperature rise, and we'll be there in the very near future, like by 2030, plus or minus. So it's hard for me to imagine we make it into the 2030s as a species," quoting Dahr Jamail, Truthout.
Read more
– UPDATE: February 27, 2015
"The Big Melt: Antarctica's Retreating Ice May Re-Shape Earth"
CAPE LEGOUPIL, Antarctica
By Luis Andres Henao and Seth Borenstein, Associated Press.
Read more
– UPDATE: May 10, 2015
"Sea rise threatens Florida coast, but no statewide plan"
"St. Augustine is one of many chronically flooded communities along Florida's 1,200-mile coastline, and officials in these diverse places share a common concern: They're afraid their buildings and economies will be further inundated by rising seas in just a couple of decades. The effects are a daily reality in much of Florida. Drinking water wells are fouled by seawater. Higher tides and storm surges make for more frequent road flooding from Jacksonville to Key West, and they're overburdening aging flood-control systems," quoting the AP, Ft. Lauderdale/Hollywood Sun-Sentinel.
Read more
– UPDATE: July 10, 2015
"Study: Last time it was this hot, seas rose 20 feet"
"As the planet warms, the poles warm even faster, raising important questions about how ice sheets in Greenland and Antarctica will respond," study author Andrea Dutton said," by Brooks Hays, UPI.
Read more
– UPDATE: July 23, 2015
"James Hansen's controversial sea level rise paper has now been published online"
"A lengthy, ambitious, and already contested paper by longtime NASA climate scientist James Hansen and 16 colleagues appeared online Thursday [July 23, 2015] in Atmospheric Chemistry and Physics Discussion, an open-access journal published by the European Geosciences Union. The paper, entitled "Ice melt, sea level rise and superstorms: evidence from paleoclimate data, climate modeling, and modern observations that 2 ◦C global warming is highly dangerous" is now open for comment — peer review in this journal happens in public," by Chris Mooney, Washington Post.
Read more
– UPDATE: July 26, 2015
"Dr. James Hansen gives his idea to curb climate change on Fareed Zakaria GPS"
"Hansen's hypothesis on sea levels rising as much as 10 feet within 50 years: "Not only would it be 10 feet, but it would imply that in the next decades after that it would be even more. Because where this water is coming from is the west Antarctic ice sheet, and then there's another part of the east Antarctic ice sheet which also has several meters of sea level rise in its ice. So what that would mean is coastal cities would become dysfunctional. Parts of the city would still be above water, but it wouldn't make sense to try to rebuild them partially because they know the water is going to keep rising. So we can't let it go unstable. We would lose all the coastal cities in the world, and that's enormous a cost, which would affect everybody, whether they're living on the coast or not
Read more
Click here for the video.
– Ramtha on Florida sinking 25+ years ago
"To that which is termed the East Coast, I heard an entity blatantly say, "But of course you know Florida is sinking." It is. The Atlantic Ocean is slowly but surely going under its crust and coming up within its landmasses. That has been a process that has been going on for quite some time, and it will continue."
– Ramtha
Denver, CO
May 17-18, 1986
Change – The Days to Come
– Ramtha on moving away from Florida
"I had asked entities long ago to move away from water. And that which is termed Florida, as it is called, you should never live in that country. It is sinking and it is a hostile environment to live in, and already that has now been verified."
– Ramtha
Yelm, WA
April 14, 1993
Winds of Change III, CD 052
– Ramtha has spoken about living away from water since the mid-1980′s"
"Stay away from the water. Get away from it. The water is beautiful but in a moment it can rush a wave over the landmass and destroy everything in sight, including you. If the Earth's crust is vulnerable, go inland and stay there because if it is unstable, the bulk of the wave or the reaction of the shockwave moving through the oceans will create a dangerous place to be."
– Ramtha
Australia Q & A
July 22, 2007
Click here to purchase CD 0708.
– Ramtha on Antarctica's ice melt
"Little by little the chaos is coming. Just look at your world. A massive part of Greenland, not Iceland, broke loose and now is threatening the carbon supply. It is four to six times bigger than New York City. No one is talking about it except that it may ruin the oil rigs. That is all that is important — not global warming, no, no, no.
You don't want to hear that Antarctica, the great Atlantis, is melting away. You will see the mountains and valleys and ancient pavilions. Scientists already see that it is melting away, that the ocean is rising — seventeen inches in a hundred years. They lie. Try two hundred feet, soon.
Who will be counting in feet if the Earth, like an orange, moves around inside its skin and rotates because the pull is so severe it tilts? Tilt — remember that word. Like a great tub of water, the tilt causes the ocean to stand high into space and then move across the landmasses. That is not fantasy; that is a geological fact. This little Earth, your sweet and beautiful home, is vulnerable to everything coming. And this, my beloved people, is your incarnation."
– Ramtha
Evening, Critical Times – Part I
August 13, 2010