Student Accomplishments:
Ana M. Mihalcea heals cancer markers using School's disciplines –
Before & After Documentation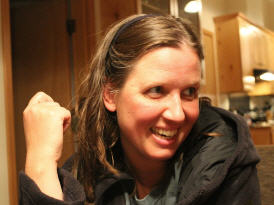 Dr. Ana M. Mihalcea
RSE student Ana M. Mihalcea used the Neighborhood Walk® and Blue Body® healing disciplines learned in the School's curriculum to heal herself of cancer markings and additional complications.
Read Ana's story in her own words and see her before and after medical documentation.
"I have an extraordinary story of my own miraculous healing journey which is fully documented. As you know, I am an Internal Medicine Physician, with a PhD in Pathology and background in Cancer Research and I became my own experiment.
I had surgery in May – my partner Laura found what proved to be a large uterine mass and a large ovarian mass suspicious for cancer. I had surgery and developed many complications, including internal bleeding and a leaking lymph vessel which caused a large lymphocele. This required for me to have a drain in my abdomen for 6 weeks, several hospitalizations and potentially more surgery, as there was no non-surgical solution for my problem.
I continued to apply my focus throughout – first, even with elevated ovarian cancer tumor markers, I manifested that the tumor was Stage 1a – not requiring chemo or radiation.
Post operatively I was unable to walk without walking sticks, due to pain, weakness, and extensive surgery. In one session of fieldwork I completely regained by ability to stand up, walk straight and balanced.
I manifested the healing and complete disappearance of the lymphocele, all documented on multiple CT scans, and won the battle against doubt and profound fear.
Most recently I had a pelvic Ultrasound, showing a growing mass on the other side and the development of a fistula to the Vagina – again a complication which could require surgery.
I continued to apply the Neighborhood Walk®, after JZ's LeGrand Chat even more inspired.
An MRI scan one week later shows the disappearance of the fistula and the mass seen shrunk to half its size.
I also had a remarkable healing of the Physician I am, by becoming a Patient."
"By becoming a Patient, I found meaning again in being a Physician. I learned that what I do, is by far not as important, as how I am being while I am engaging a patient."
"I am not separate anymore from my patients, I have a much more personal understanding of suffering and the alone battle that goes on when facing ones own mortality or severe illness. I am much more aware, that every choice I make, from the brightness of my smile, to my tone of voice, to looking into someone's eyes, has an impact that is profound to the one who depends on my care. I now create my day in full awareness of my potential beneficial impact on a lot of human beings, rather then just getting through another day at my stressful job."
Read Ana's full report
Click here for the video of Ana's profound story.
– UPDATE: December 20, 2012
"'Doctors must learn care and compassion':
Prince Charles claims modern medicine is putting the 'human touch' at risk"
"His Royal Highness makes heartfelt plea to medical profession," quoting Jenny Hope Medical Correspondent for UK's Daily Mail.
Read more