Student Accomplishments:
RSE Teacher Laura Mooney's Remote-View manifestation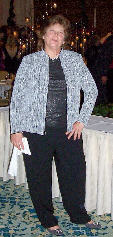 Laura Mooney
"In first week of May while having a light-hearted moment with my partner, Ana…tickling her…something odd was discovered.
Ana made a doctors appointment and was informed the physical malady required immediate attention… as in, could be life threatening. Several doctor appointments later in Olympia and Seattle she found herself in surgery at the Swedish Medical Center [ Seattle]. She checked in on May 15th and was discharged on May 18th.
Ana is doing well and is on the mend.
Sharing the above state of affairs is important as I remember in the February Retreat Ramtha said the most important remote view we would ever do would be our own future.
While I was walking Ana out of the hospital the day of discharge, she had to stop a few times and rest. At one point we stopped and as I turned towards her, everything seemed to slow down – a piece of artwork on the wall captured my eye. It was my remote-view from February. Although our group was 'A' and we were remote viewing March, I was a little bit farther out.
Attached is the picture of my Group A Remote-View and a picture of a structure in a glass case mounted on the wall in the hallway at the Swedish Medical Center. I remember not specifically knowing a location during the RV session and thought it might be the Washington Monument. The structure in the glass case has a mirror in the background and a reflection of itself [reflecting like water would in Laura's drawing].
It was a cool moment – time slowed and I knew I was looking at what I had seen in my Remote View back in February."