Student Accomplishments:
"The Captain" John Glennie publishes new book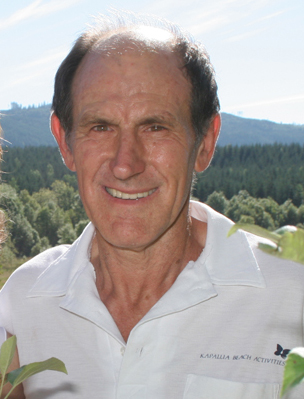 "Master of the Sea" John Glennie
Known to many of us by Ramtha's references to 'The Captain' or "Master of the Sea', John Glennie made international headlines when his story of survival was first published in 1990 titled 'The Spirit of Rose-Noelle: 119 Days Adrift, a Survival Story,' where as one of four of the survivors, Glennie describes the 1989 story of being adrift for four months in an overturned trimaran, The Rose Noelle.
Glennie attributed he and his crew being saved to Ramtha, as was written in the newspapers at the time.
Read more from the New Zealand Herald.
Read more from another newspaper report.
Glennie states,
"In my book I mentioned about a ball of light that came down and exploded behind the clouds on the horizon. Newspapers picked that up and consequently every paper in NZ printed that I had seen a UFO."
"Ram told me that it was him who sent the light ball.
He said his ship was over me the whole time I was out there."
Glennie's story was made into a New Zealand television documentary in 1996.
Click here for an excerpt.
Now, Glennie has taken all of his life's experiences and written a new book 'Playboys of the South Pacific – South Seas Adventure on a shoe string.'
Glennie says:
"This book is dedicated to the spirit of adventure that dwells in many young people, such as we were when we built our trimaran, Highlight. It was written for those who have big dreams with no apparent way to achieve them. These pages will show you how to realize that dream . . . and still have no money!!!
If we did it, so can you. It's not about the money but the wisdom gained from the experience of living outside the box, which is what we are all after. It's your job to create the dream and I hope this helps.
It is my wish that this is more of a manual on how to escape to that freedom and adventure — a reason to cruise the Pacific Islands and the world, to meet the people and lifestyles of foreign lands, laugh with them, learn their language and the attitude you need so that you don't take an old recipe of dull predictable living and transpose it to your future dreams.
Through these pages you will learn to look upon adversity as an opportunity to be greater, for you will never know greatness without adversity. If this is not you, then at least experience it through this armchair adventure, do it in your mind, become immersed in the journey, as you read these pages, for the brain doesn't really know the difference.
Make the move now instead of going through life wishing you had. With an ocean of dreams waiting, may the wind be always at your back. "
Read more
– Glennie was eulogized in two New Zealand newspaper stories:
Read more from the New Zealand Herald.
Read more from second newspaper eulogy.
– "New Zealand's 10 most influential sailors"
List complied by Boating New Zealand team and written by Rebecca Hayter.
Click here
Glennie has been a student of Ramtha's since 1991.
– UPDATE: July 5, 2013
John Glennie, Captain of The Rose Noelle was interviewed for a New Zealand newspaper about the missing American schooner Nina.
Read more from NZ's Dominion Post.
– UPDATE: March 9, 2015
"Rose Noelle TV production includes Tutukaka location shoot"
"The 6.5-tonne trimaran Rose Noelle washed ashore at the southeastern tip of Great Barrier in September 1989 after turning turtle during a stormy voyage to Tonga. After drifting about 3000km, it washed on to a reef off Little Waterfall Bay. After four months in the upturned vessel, skipper John Glennie and crew members Jim Nalepka, Phillip Hofman and Rick Hellreigel were skin and bone. They had huddled together in part of a flooded cabin, an area about equal to a queen-size bed.
The men cut a hole in the hull, caught rainwater and lived off stores, plus fish which swam into the craft. Unusual winds and currents drove the boat back toward New Zealand rather than, as expected, toward the South American Coast.
Many people were sceptical about the story, but scientific examination of marine growth on the Rose Noelle's hull confirmed it," by Mike Dinsdale, The Northern [NZ} Advocate.
Read more
– UPDATE: March 10, 2015
"The Rose Noelle Story Brought to Life for TV One"
"The story of one of New Zealands most intriguing maritime survival stories will be brought to life in the enthralling telefeature Abandoned for TV ONE.The Rose Noelle Story Brought to Life for TV One."
"Abandoned is based on the book, The Spirit of Rose Noelle, written by survivor John Glennie, the owner and skipper of the ill-fated Trimaran," quoting Pacific.scoop.co.nz.
Read more