The secret to a chameleon's color change –
Ramtha puts this little creature's abilities in perspective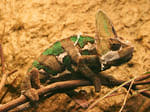 Photo credit: Laura Klappenbach, Animals/Wildlife Expert
– "The secret to chameleon color change – Tiny Crystals"
Researchers report online in Nature Communications that chameleons change colors by rearranging a lattice of nanocrystals in one of the top layers of skin cells.
Read more
– Ramtha's Teachings on the ability of chameleons to change color –
What does a chameleon and butterfly know that we don't know?
– From the Beginning Retreat – Blue College Optional
"Think of a chameleon that can change its dapple brown color immediately if there is danger in less than a twinkling of an eye, blend into the environment, and no one sees it. That is a very sophisticated organism."
– Ramtha
November 7, 1999
Yelm, WA.
– From the Quantum Physics Retreat
"Remember that the quantum field is filled with potentialities, particles of potential. One particle can become all particles and in all spins. All particles are true chameleons. They have the ability to change. Just like the caterpillar turns into a butterfly, one particle can change its bit of information."
– Ramtha
September 23-25, 2000
Yelm, WA.
– Metamorphosis
Click here for the excerpt adapted from: Tape 382.6
"What the caterpillar knows that we don't"
Love is a many splendored thing, part 2
Boktau III
June 28, 1998
Yelm, WA.
– "The Magic of Metamorphosis"
"How We Rearrange the Past and the Future Every Time We Manifest"
Printed in SuperConsciousness Magazine, January 2008.
Read more
Learn more: Click here to order your copy of "A Master's Key for Manipulating Time."