Student Accomplishments:
Patty Kerr creates her dream using RSE teachings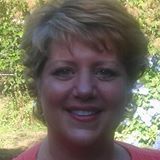 Patty Kerr
RSE student Patty Kerr shares her experience in using RSE's teachings to assist her in the opening of her Botanical Chic Salon & as the creator of an Organic Personal Care Line.
Here is Patty's story in her own words:
"First off we want to thank our teacher, Ramtha, and JZ for their selfless devotion to truth, freedom and empowering the Divine within.
I have been a student since 1985. Being raised in the Catholic religion I was unsatisfied with blind faith. I wanted answers and went looking for truth; spirituality that was backed with logic and common sense. It led me to RSE and I have never looked back.
Being born into a female body in this lifetime I was driven to be a sovereign individual.
I saw women in the generation before me being told they were born to simply be a wife and Mother. I have been both of those roles and have great respect for their experience but I did not want to do it at the cost of my freedom or individuality. I applied many of my disciplines from C&E® to Fieldwork® in creating a mind that would break the chains and allow such a reality to unfold.
My soul also wanted the experience of creating something out of my mind as well as experience abundance from its creation. Ram taught that joy and bliss would follow if you just did what you loved.
I have been a self-employed hairstylist most of my life, but had the dream to create a product line made out of the safest ingredients. Since the skin is the largest organ of the body, I did not have to be a rocket scientist to deduce that I would want to use the most intelligent living frequency on my skin to keep it healthy. For me, Nature is Queen. I loved doing my Neighborhood Walk® and Fieldwork® holding this dream. It is my passion and love.
It took me a few years once I conceived of the idea to finally launch my product line but I created a Body Care, Skin Care, Hair Care and Baby Care line from the ground up. If I had not been in the school, I don't think I would have pushed myself to take such a risk, but doing all the disciplines at the school allowed my spirit to become stronger than my fear and ultimately it conquered my doubt.
At that time I was married to a fellow student, Rich Arnold – Bless his soul for having the same passion for freedom, wealth and equality. What skills I lacked, he excelled in. So we created our online retail company and owned and operated it for 7 years. What started out as my dream morphed into a dream that allowed both of us to fulfill our destiny of abundance and growth.
We had created sovereignty on our 5-acre parcel, however we still had a mortgage and that did not set well with either of us. We knew that it was time to move forward with a different path. We both started walking the sale of our company, as we knew it would provide the opportunity to make our property a safe haven for our family. My Neighborhood Walk® was 'I have always sold Nurture My Body for full asking price with no strings attached.' Rich's was, 'Nurture My Body will be sold by December 31, 2012.'
It took us a year from listing our company and many offers and temptations to accept lesser offers, but we stood firm in allowing our God to unfold and manifest both of our creations. December 31, 2012 rolled around and on that very day we not only received an offer to purchase our company, but the buyer offered 25% more than the asking price with no strings attached!
Our mortgage was paid! Such a beautiful relief and long-standing dream fulfilled. I am now behind the chair once again at my home salon, Botanical Chic, in Rainier and am jazzed by the ability to create art with hair and love and pamper my clients. Botanical Chic is unique to our area as I use only the safest most natural products and never perform any chemical services.
My best advice is 'Never, ever give up!'
ABOUT BOTANICAL CHIC
"Botanical Chic is a premiere Salon run by Patty Kerr with 31 years experience in the Industry. Botanical Chic is a Natural Salon that uses only the best products made with certified organic or natural ingredients so it is safe for the whole family," quoting Facebook.
Read more