USA's Centers for Disease Control and Prevention (CDC):
Americans got Simian-contaminated virus vaccine 1955-1963 –
Ramtha predictions on viruses are chillingly precise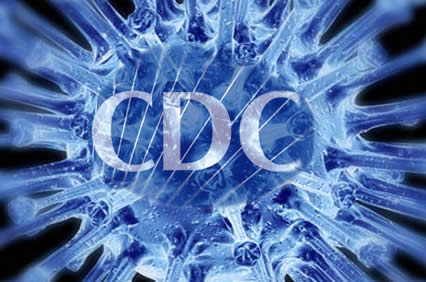 Photo credit: Dept of Health and Human Services, CDC
– From the CDC's official document
"SV40 is a virus found in some species of monkey."
"SV40 was discovered in 1960. Soon afterward, the virus was found in polio vaccine.
"More than 98 million Americans received one or more doses of polio vaccine from 1955 to 1963 when a proportion of vaccine was contaminated with SV40; it has been estimated that 10–30 million Americans could have received an SV40 contaminated dose of vaccine."
Read more
– "CDC Admits 98 Million Americans Received Polio Vaccine In An 8-Year Span When It Was Contaminated With Cancer Virus"
"The CDC has quickly removed a page from their website, which is now cached here, admitting that more than 98 million Americans received one or more doses of polio vaccine within an 8-year span from 1955-1963 when a proportion of the vaccine was contaminated with a cancer causing polyomavirus called SV40, " by Dave Mihalovic, PreventDisease.com.
Read more from this story submitted by Dr. Karriem Ali.
– Dr. Karriem Ali's "Viruses & Vaccines" talk at the 2013 Advanced Retreat.
Click here to view.
– Ramtha's predictions on manufactured viruses from Northern Europe are chillingly accurate
– From May 6, 2011 — Ramtha's Critical Update
"There will be an outbreak of a new horrible virus because certain companies need for you to take a vaccination. That outbreak oddly will come out of the northern countries and will start in the northern latitudes. It will no longer use Japan and China as its laboratories. It will come out of a northern European country and will be brand-new, but it is manufactured."
– From March, 2000 – Primary Retreat
"How do you march against viruses and bacteria that have evolved much faster than you? There have been many predictions about a third world war, which is heavy with everyone, but I want to tell you that it will not happen in armies. There is no army superior enough to the West. There isn't. The next war will be a war of viruses and plagues because that is the only army that has outwitted guns and lasers and that is the army that is going to lay waste to the world. That is the true Armageddon on the Plain of Sharon. That is the true Babylon burning, and the sailors watch from the sea and weep a thousand tears.
There are viruses that are intelligent that can change so fast. You don't change but they do. They are the host that is going to feed upon what is not going to change and they are going to destroy you. How do you then prepare for a marching army that is silent, quiet, deceptive, and invisible? You have to be beings whose consciousness is so clean that there is no environment for such an army to march upon. That is the only way you are going to survive what is about to happen to the West."
"It isn't about country anymore; it is about attitude. Get ready. You may not like it but you have done little to change it. Now it is time to change. Now it is time to be clean. It is time to be clear. It is time to be that which nature will preserve because this army is going to outwit every great mind in the world."
"All diseases and all viruses are custom-made to match the first three seals."
"And they won't come with open swords, war-horses, and battle-axes. No, they won't look like that. They are invisible."
Excerpt from: Fireside Series, Vol. 4, No. 3, The New March, Developing a Mind Worth Preserving,
JZK Publishing, 2007. Copyright © 2007 JZ Knight.
OTHER NEWS ABOUT VIRUSES
– "Terror fear as scientists DELIBERATELY create 'Armageddon' bird flu virus in lab"
"A super-strain of bird flu that could infect and wipe out millions has been developed in a laboratory.
Dutch scientists who created the 'Armageddon virus' say it is 'probably one of the most dangerous viruses you can make'.
Their research focused on what it took to convert bird flu – which can kill more than half of those infected but does not spread easily – into a highly contagious virus."
"But others argue the virus should never have been created – and warn the potential if it escaped from the lab is 'staggering'. There are also fears the recipe will be seized on by terrorists looking for a biological weapon."
"The U.S. government is so concerned that its advisers are trying to block the details of the virus's manufacture from being published.
National Science Advisory Board for Biosecurity chairman Paul Kiem, an anthrax expert, said: 'I can't think of another pathogenic organism that is as scary as this one. I don't think anthrax is scary at all compared to this,'" quoting Fiona Macrae in UK's Daily Mail.
Read more
– Read more from CBS News, in a story published after this link was posted.
– Read more from Natural News, in a story published after this link was posted.
– Read more from The BLAZE for the Associated Press.
– Read more from Alex Jones' PRISON PLANET.
– Read more from SCIENCE and their publisher AAAS — the American Association for the Advancement of Science.
– UPDATE: December 30, 2011
"WHO 'deeply concerned' by deadly flu research"
"Scientists altered a deadly virus to make it even more contagious"
Read more from Reuters.
– UPDATE: April 5, 2013
"U.S. issues advisory to doctors to help identify bird flu"
"The U.S. Centers for Disease Control and Prevention said on Friday it has issued an advisory to U.S. doctors that may help them identify any cases of the new bird flu virus known as H7N9, but stressed that no cases have been found in the United States."
"According to the CDC, this is the first time H7N9 has infected people. Frieden said most of those who have become sick had direct contact with live poultry. Chinese health authorities are investigating the source of the infections. Frieden said they have reported positive cultures for a similar strain in both chickens and pigeons, and more testing is going on.
Because this is a non-human virus, the worry is that it could cause a flu pandemic if it learned to become easily spread from person to person," quoting Reuters (Reporting by Julie Steenhuysen; Editing by Vicki Allen and Philip Barbara).
Read more
– UPDATE: May 21, 2013
"University of BC Doctors Expose Vaccination Cover-up: Official Documents Released From The UK"
"Dr Chris Shaw, from the University of British Colombia's (UBC) Department of Ophthalmology, Visual Sciences, Experimental Medicine and Neuroscience published a paper in the Journal Inorganic Biochemistry along with his colleague, Dr. Lucija Tomljenovic that revealed Government experts have known about the dangers associated with vaccinations. They investigated information exposing a 30 year scandal of official meetings by UK government vaccine committees and independent medical 'experts' with drug industry connections. The paper is at the bottom of the article under "sources".
A Freedom of Information Act request filed with the CDC seeking information on what the CDC knows about the dangers of vaccines, had by law to be responded to in 20 days. Nearly 7 years later a judge ordered the CDC to turn over the documents on September 30th, 2011. These documents were part of the study discussed in this article," quoting Collective Evolution.
Read more
– UPDATE: July 17, 2013
"Dr. Michele Carbone openly acknowledged HIV/AIDS was spread by the hepatitis B vaccine produced by Merck & Co. during the early 1970s," quoting REALfarmacy.com.
– UPDATE: November 14, 2013
"'Unpredictable pandemics' warning"
"The world needs to be prepared for "unpredictable pandemics" from viruses making the leap from animals to people, scientists in Taiwan say.
Their warning follows the first reported case of a common bird flu, H6N1, being detected in a woman, earlier this year.
The patient recovered and no other cases have been detected.
But the Lancet Respiratory Medicine report said "intensive" monitoring of bird flu was needed," quoting James Gallagher, BBC News.
Read more
– UPDATE: November 15, 2013
"Emergency meningitis vaccine will be imported to halt Ivy League outbreak"
"Emergency doses of a meningitis vaccine not approved for use in the U.S. may soon be on the way to Princeton University to halt an outbreak of the potentially deadly infection that has sickened seven students since March," quoting JoNel Aleccia NBC News.
Read more
– UPDATE: April 29, 2014
"Should Parents Be Allowed to Decide About Vaccines?"
By Dr. Mercola.
Read more
– UPDATE: April 30, 2014
"WHO's first global report on antibiotic resistance reveals serious, worldwide threat to public health"
"New WHO report provides the most comprehensive picture of antibiotic resistance to date, with data from 114 countries"
Read more from e WHO.
– UPDATE: September 2, 2014
"National Vaccine Information Center Calls for Removal of Vaccine Safety Oversight from Department of Health and Human Services
"On Aug. 27, 2014 a senior scientist at the Centers for Disease Control and Prevention (CDC)1 publicly admitted2 that he and other CDC officials, including the current CDC's Director of Immunization Safety,3, 4 published a study about MMR vaccine safety in 20045 that "omitted statistically significant information" and "did not follow the final study protocol. "He said the study "omitted relevant findings in a particular study for a particular sub group for a particular vaccine" and added that "there have always been recognized risks for vaccination" and "it is the responsibility for the CDC to properly convey [vaccine] risks.
CDC: A History of Limiting Transparency,"
By Barbara Loe Fisher on Dr. Mercola.com.
Read more
– UPDATE: January 20, 2015
"Drug-resistant tuberculosis a tiny — but potent — foe in L.A. County"
"Dr.Caitlin Reed (runs the TB unit at Olive View-UCLA Medical Center in Sylmar)believes Gary, who is 39, has the most extensively drug-resistant case of tuberculosis ever treated in the United States. Only a handful of patients in Los Angeles County have drug-resistant TB. Their treatment is grueling and expensive — and necessary to prevent further spread of the disease, which spreads through the air, public health officials said," quoting Eryn Brown, LA Times.
Read more
– UPDATE: April 29, 2014
"Should Parents Be Allowed to Decide About Vaccines?"
By Dr. Mercola.
– UPDATE: January 24, 2015
"Shots in the Dark" Delves into Catastrophic Vaccine reactions"
By Dr. Mercola.
Read more