Student Accomplishments:
Linda Martel & Charlie Roy win $50,000! –
attribute RSE teachings to their success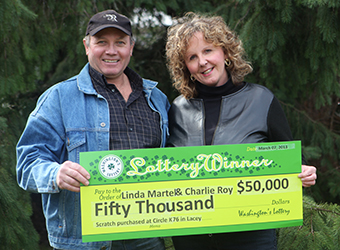 Charlie Roy and Linda Martel
RSE students Linda Martel and Charlie Roy used the training of focus they learned at RSE in winning $50,000 from a single Scratch Ticket. This is the school's first $50,000 winner utilizing Ramtha's disciplines.
Here is Linda and Charlie's story in their own words:
"During the Advanced Retreat, I had to go to see my physician for a bad ear infection. While I was waiting for my prescription at Safeway, I bought a scratch ticket and won $50.00. When I got home, I put the ticket on the desk then went into Twilight®. Before I went into slumber, I was focusing on "I have always been a winner". When I woke up, I immediately saw the letter V and the number 8. When I went to the desk, I saw to my surprise that my winning ticket had the exact V shape, which I did not see before. So, I then went to the corner store and bought 8 of these scratch tickets. Out of these tickets, 5 were winners for a total of $220.00. I then went back to reinvest them but with no success.
Since that Twilight®, I had a deep knowingness about winning with a scratch ticket. On Tuesday night [March 5] as I was looking at the WA lottery web site, I saw that I could actually see the various scratch tickets available with complete details (number of ticket issued, number remaining, etc). On their site, right next to the one that I had previously bought, I found out that there was another option with great winning odds, so I immediately knew that I had to buy one the next day.
Yesterday, March 6th, Charlie and I decided to take a day off and went to the casino in the morning. We took a different route on the way there and had a wonderful time and a light heart there. I actually won $200.00 in total. In the afternoon, we decided to do our errands in Lacey and go see a movie (which we rarely do). On the way there, I reminded Charlie to stop somewhere so I could buy the scratch ticket. His knowingness told him to stop at a place located on the right side of Martin Way.
I bought just one ticket there and when I started to scratch it, I had a number matching the winning numbers. I then started to scratch the amount below it, then saw a $5 and said "I think I won $50.00". I kept scratching just to reveal more "0's". The total of my win was $50.000.00. We were both very excited and had a hard time believing it, so I read the instructions on the ticket 7 times to make sure it was right.
We are forever grateful and thankful to Ramtha and JZ for The Great Work."