Student Accomplishments:
Another student attributes school's training to Lotto win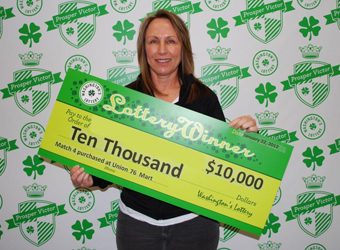 "Jan" – the date of the check is incorrect, was paid January 22, 2013
Another RSE student has won $10,0000 in Washington's Lottery Match 4. Jan participated in the School's online Workshop January 18-20,2013 and applied what she was taught by Ramtha. Here is Jan's story in her own words:
"I called forth the winning lotto numbers during the school's discipline of C&E®. The numbers literally fell out of The Void, one at a time. I lifted my blindfolds and quickly wrote them down so I wouldn't forget. I called forth the numbers, wrote them down, then released them, just like we were taught to remote-view. I had never played these numbers before and I didn't focus on them thereafter. A few days later (January weekend workshop) we were told to write five items down on a card that we wanted to manifest. The first item I wrote down said: Jackpot Lottery Win. I won the very next day [January 20, 2013]!
I'm so jazzed!!!!
I love this work!!!"
XOXO
– UPDATE: February 25, 2013
Jan went to the casino on a break Sunday, February 24 and won $650.