"U. S. Defense Sec. Panetta warns of cyber attacks" –
Ramtha on "worms" threatening banking system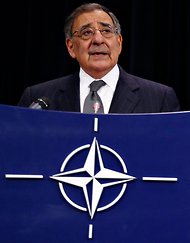 Photo credit: Francois Lenoir/Reuters
Defense Secretary Leon Panetta seeks new standards to protect vital infrastructure.
– "Leon Panetta warns of 'cyber Pearl Harbour'"
"US Defence Secretary Leon Panetta has warned that the threat from cyber-attacks on US interests is growing, in a speech to business leaders in New York.
He highlighted the virus unleashed this summer in the Gulf, which knocked out 30,000 computers, disrupting major oil and gas companies.
Simultaneous attacks on 'critical infrastructure' in the future, he warned, could result in a 'cyber Pearl Harbour,'" quoting the BBC.
Read more
– "Panetta Warns of Dire Threat of Cyberattack on U.S."
"Defense Secretary Leon E. Panetta warned Thursday [Oct. 11] that the United States was facing the possibility of a "cyber-Pearl Harbor" and was increasingly vulnerable to foreign computer hackers who could dismantle the nation's power grid, transportation system, financial networks and government," quoting Elisabeth Bumiller and Thom Shanker in the New York Times.
Read more
– "Serious flaws in Ottawa's defence against cyber attacks: auditor general"
"After foreign hackers launched a cyber attack on Treasury Board and Finance Canada in January 2011, it took officials more than a week to alert a federal office that's in charge of spreading the word about the latest intelligence on cyber threats.
Ottawa has always been tight-lipped about the cyber attack, which led the government to shut down Internet access inside key departments for months," Bill Curry in Canada's The Globe and Mail.
Read more
– UPDATE: February 2, 2013
"Eric Schmidt predicts China's hacker war"
"This week the soon to be released book "The New Digital Age" authored by Google's Eric Schmidt has been reviewed and spilled early by the Wall Street Journal. Their review includes words from the author regarding the future digital dominance of China across our planet, especially as it pertains to the United States in the very near future. This is not the first time Schmidt has predicted political waves crashing in before they've gone ahead and happened – an essay by Schmidt and colleague Jared Cohen called "The Digital Disruption" (published in 2010) correctly predicted Arab Spring (more or less). Could this be the next great digital high tide coming towards us?" quoting Chris Burns, Slash-Gear.com.
Read more
– Ramtha on cyber "worms" bringing down banking system
"The greatest and ugliest monsters of all are the banks. They own everyone. That is a great Satan. That is the great enslaver. Although you are not going to hear about it — but it will leak out — this year worms will bring down the banking system.
You cannot say that you are being useful for society if you use society to enrich yourself and make them poor. You only have a little while to amend your ways. And this downfall will start in late summer, early fall. Look for the signs. It will begin in Europe. Another sign is that great tall building in Abu Dhabi. Something curious will happen to it. You will see."
– Ramtha
World Event Workshop
Yelm, WA
April 28, 2012