RSE Int'l Beginning Retreat in South Korea
The first RSE International Beginning Event was held at a beautiful mountain setting in Wagrain, Austria, April 29 – May 2, 2012, conducted entirely by local student-coordinators. Australia & South Korea student-coordinators held their RSE International Beginning Retreats in late June, 2012.
ABOUT THE NEW BEGINNING RETREATS
In the Beginning Event, students learn Ramtha's model of reality, his vocabulary, and techniques that initiate each student into a direct experience of personal truth to Become a Remarkable Life®.
The Beginning Event replaces the Home Study Program. It will be available online via streaming and at select international venues.
The Online Beginning Event is now available in multiple languages at www.ramtha.tv. The 30-hour course features teachings from Ramtha and JZ Knight from around the world with instruction and training to expand the mind. Video instruction and training is also presented by Ramtha's appointed teachers.
– South Korea Beginning Retreat, October 5-8, 2012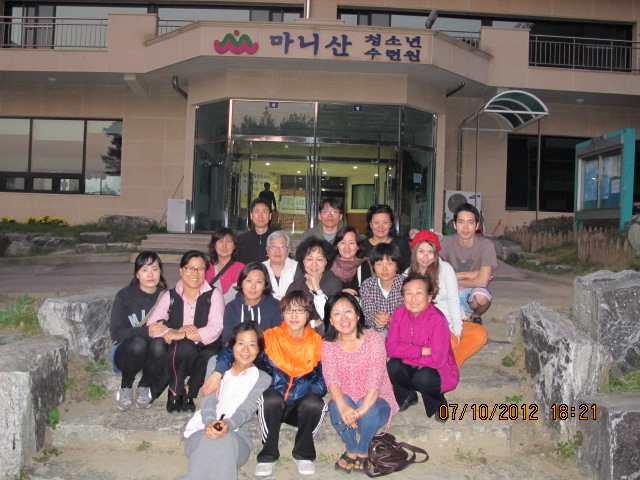 South Korea students attending their Beginning Retreat
From Yulita Yoo, RSE's South Korea Coordinator:
"Even though there were only 12 participants with 4 staff members, it was a very cozy and very powerful event.
As you can see from the comments from few about the Beginning Event below, this Beginning Event with the excellent combination of the modules have impacted so much to the new students as well as again to the repeaters.
'From this event, I have got the answer for the question that I have always had in my life.
I am very happy about it' from student A
– 'Ramtha, you are the greatest teacher of all. I would like to be like you!'
from student B
– 'Even though it is called the Beginning Event, it seems to teach us almost everything. I have had few unanswered experiences and many doubt before and most of them were answered during the event. I am very grateful for that.
As I expected, I have got much more information and disciplines than I could get from the book. And I have met many beautiful people at the event.' from student C.
– 'My search has now completely over after I have found Ramtha.' from student D.
After 2 books were published [in Korean], I get people who are more spiritually ready to accept people Ram's teaching than before.
It was really touching for me to see that people are so much eager to learn.
There was one 70 years old lady who had attended CPR and EPR. She looked so much younger and happier when we had finished the event. She just looked like an angel! Her enthusiasm and commitment inspired all of us.
Every time whenever I do the event, I have become so much humbled and honored by witnessing the obvious changes in everybody.
Once again, I really thank you to Ramtha and JZ Knight and all the people who are involved in RSE."
Click here to view the South Korea event's Photo Album.